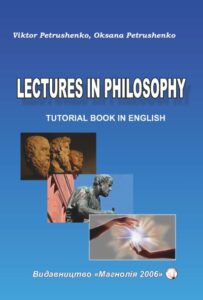 Viktor Petrushenko, Oksana Petrushenko,
Tutorial Book in English.– 284 р.
ISBN 978-617-574-124-5
The tutorial book is addressed to English-speaking students of higher educational institutions of Ukraine. Its structure corresponds to the practice of teaching philosophy at universities and to the historical development of this discipline. The tutorial book is characterized by a concise, but the logically connected recount of the material, which expands according to the principle «from simple to complex». At the basis of this logic is the task to trace the historical development of human thinking and cognition. At the same time, the theoretical statements are accompanied by references to the practice.
CONTENTS
THEME 1. PHILOSOPHY, ITS SOURCES AND PECULIARITIES
THEME 2. PHILOSOPHY OF THE ANCIENT EAST
THEMA 3. ANTIQUE PHILOSOPHY (ANСIENT GREEK AND ROMAN PHILOSOPHY)
THEME 4. PHILOSOPHY OF THE MIDDLE AGES
THEME 5. PHILOSOPHY OF THE RENAISSANCE AND THE PROTESTANT REFORMATION
THEME 6. PHILOSOPHY OF THE MODERN TIME
THEME7. GERMAN CLASSICAL PHILOSOPHY
THEME 8. PHILOSOPHICAL PROCESS IN EUROPE IN XIX CENTURY: TRANSITION FROM CLASSICAL PHILOSOPHY TO NON-CLASSICAL ONE
THEME 9.  PHILOSOPHY OF THE XX-XXI CENTURIES
THEME 10. THE HISTORY OF UKRAINIAN PHILOSOPHY:  BRIEF SKETH
THEME 11. THE PROBLEM OF BEING IN PHILOSOPHY
THEME 12. ORIGIN, NATURE AND STRUCTURE OF CONSCIOUSNESS
THEME 13. MAN AND HIS ВEІNG AS A SUBJECT OF PHILOSOPHICAL COMPREHENSION
THEME 14. THE QUESTION OF COGNITION IN PHILOSOPHY: NATURE, STRUCTURE, FUNCTIONS
THEME 15: SOCIAL PHILOSOPHY AND PHILOSOPHY OF HISTORY
THEME 16: CULTURE AND CIVILIZATION