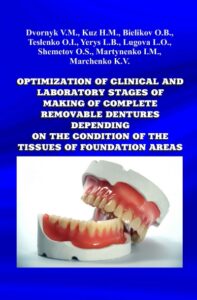 Dvornyk V.M., Kuz G.M., Belikov O.B., Teslenko O.I., Yerys L.B., Lugova L.O., Shemetov O.S., Martynenko I.M.,Marchenko K.V.
Тextbook – 148 p.
ISBN 978-617-7937-26-4
Issues of functional and topographic anatomy of the dental system after the complete loss of natural teeth highlighted in the manual presented by the team of authors of the department of orthopedic dentistry with implantology. Based on the analysis of the data in this discipline, the essence and sequence of clinical and laboratory stages of complete removable dentures fabrication are reviewed, taking into account individual features of the structure of the foundation area and use elaborations of the department`s staff aimed at improving the fixation and stabilization of dentures.
The manual is intended for students of dental faculties of higher education institutions, interns and English-speaking dentists.
CONTENTS
Part I FUNCTIONAL AND TOPOGRAPHIC ANATOMY OF THE DENTOFACIAL SYSTEM AFTER THE COMPLETE LOSS OF TEETH. FUNCTIONAL IMPRESSIONS
Part II METHODS OF DETERMINING OF THE CENTRAL RELATION IN EDENTULOUS PATIENTS
Part III BASICS OF ARTICULATION AND ITS PRACTICAL APPLICATION IN CLINICS OF PROSTHODONTICS IN EDENTULOUS PATIENTS
Part IV TEETH PLACEMENT. ANATOMIC LANDMARKS AND FUNCTIONAL PATTERNS
Part V VERIFICATION OF THE DESIGN OF COMPLETE REMOVABLE DENTURES. POSSIBLE ERRORS AND WAYS TO FIX THEM
Part VI CORRECTION AND INSERTION OF COMPLETE REMOVABLE DENTURES. EVALUATION OF THE EFFECTIVENESS OF PROSTHETICS. ADAPTATION. FUNCTIONAL ASSESSMENT OF THE QUALITY OF COMPLETE REMOVABLE DENTURES
Part VII SHORT- AND LONG-TERM RESULTS OF PROSTHETICS WITH COMPLETE REMOVABLE DENTURES. HARMFUL EFFECTS ON THE DENTURE FOUNDATION. METHODS OF DIAGNOSTICS. PREVENTION
Part VIII TERMS AND FEATURES OF RE-PROSTHETICS OF PATIENTS WHO USE FULL REMOVABLE DENTURES