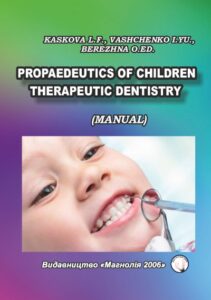 KASKOVA L.F., VASHCHENKO I.YU., BEREZHNA O.ED.
Textbook – 204p.
IBSN 978-617-574-146-7
The study guide is composed in compliance with the typical academic plan for students of the Faculty of Dentistry. The study guide contains issues on organization of the dentist's office, histology and embryology of the oral cavity organs, topographic and anatomical structure of deciduous and permanent teeth in children. Two large sections, one of which is devoted to manipulations with carious cavities (specificities of preparation, armamentarium and peculiarities of sealing), and the second one covers issues of endodontic treatment of teeth (presents instruments for manipulations in root canals; describes the state-of-the-art methods and materials) are of special interest.
CONTENTS
Part 1 Organization and Equipment of The Dental Room. Dental Instruments
Part 2 Sterilization and Disinfection in Dental Room
Part 3 Anatomical Structure of Primary and Permanent Teeth
Part 4 Cavity Preparation in Primary and Permanent Teeth in Children
Part 5 Filling Materials
Part 6 Technique of Caries Cavities Filling in Deciduous and Permanent Teeth in Children
Part 7 Endodontics. Endodontical treatment of primary and permanent teeth