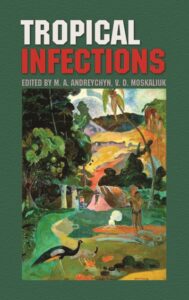 Andreychyn M.A.,. Moskaliuk V.D., Sorokhan V.D., Sydorchuk A.S., Melenko S.R., Goliar O.I., Pudyak H.I. Balaniuk I.V. Sokolenko M.O. Andrushchak M.O. Rudan I.V., Kolotylo T.R.,. Zavidniuk N.H., Iosyk Ia.I
Stude guide – 220 p.
ISBN 978-617-574-150-4
The manual covers 30 the most relevant to the tropics infectious diseases related to viroses, rickettsioses, protozoiases and helminthiases. The current data on their etiology, epidemiology, pathogenesis, pathological anatomy, clinical manifestations, complications, diagnosis, treatment and prevention are given. The learning of text information is facilitated by photos, charts and tables.
It is assigned for English speaking students of medical educational institutions of the III-IV levels of accreditation.
Summary
CHAPTER І. VIRAL INFECTIONS
EBOLA HEMORRHAGIC FEVER
LASSA HEMORRHAGIC FEVER
MARBURG HEMORRHAGIC FEVER
YELLOW FEVER
CHIKUNGUNYA FEVER
ZIKA FEVER
CRIMEAN-CONGO HEMORRHAGIC FEVER
DENGUE FEVER
NIPAH VIRUS INFECTION
CHAPTER II. RICKETTSIOSIS
Q FEVER
ROCKY MOUNTAIN SPOTTED FEVER
TSUTSUGAMUSHI DISEASE
ЕNDEMIC MURINE TYPHUS
TICK-BORNE EPIDEMIC TYPHUS OF NORTH ASIA
CHAPTER III. PROTOZOAL INFECTIONS
MALARIA
LAMBLIOSIS
CRYPTOSPORIDIOSIS
AMEBIASIS
TOXOPLASMOSIS
TRYPANOSOMIASIS
LEISHMANIASIS
BARTONELLOSIS
CHAPTER IV. HELMINTHIASIS
SCHISTOSOMIASIS
ANCYLOSTOMIASIS
STRONGYLOIDIASIS
DRACUNCULIASIS
ONCHOCERCIASIS
BRUGIOSIS
WUCHERERIASIS
LOIASIS